Yay! I have received the Leibster Blog award from Cindy from the Krazy Kindergarten Teacher and Louanne from My Kindergarten Kids. Thank you ladies!! You are too sweet.


This award is named for the German word "Liebster," which translates to "beloved" or "favorite", and is given to a "new, up and coming blogger."
1. Link back to the person who gave it to you.
2. Post the award to your blog.
3. Give the award to at least 5 bloggers with less than 200 followers.
4. Leave a comment on the 5 blogs to let them know that they have been offered this award.
I am giving the award to: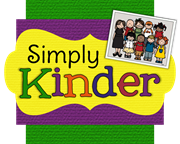 And don't forget about my giveaway! Just a couple days left!!